Truck servicing packages are a dime a dozen. With so many offers out there, it can be hard to judge which truck servicing packages deliver Singapore's best value. Luckily, we have specially curated our deals to go above and beyond expectations!
Don't settle for simply getting a regular service for your commercial truck. You deserve more! Treat your vehicle to a luxury service instead, with yearly customised packages available to you now.
Starting from just S$108, our servicing packages include:
DH-2 Engine Oil
Engine Oil Filter (OE)
25-Point Check
Vehicle Wash (Exterior)
If you'd like to know more about our amazing value servicing packages, call us on our Singapore service hotline or fill out a general enquiry form.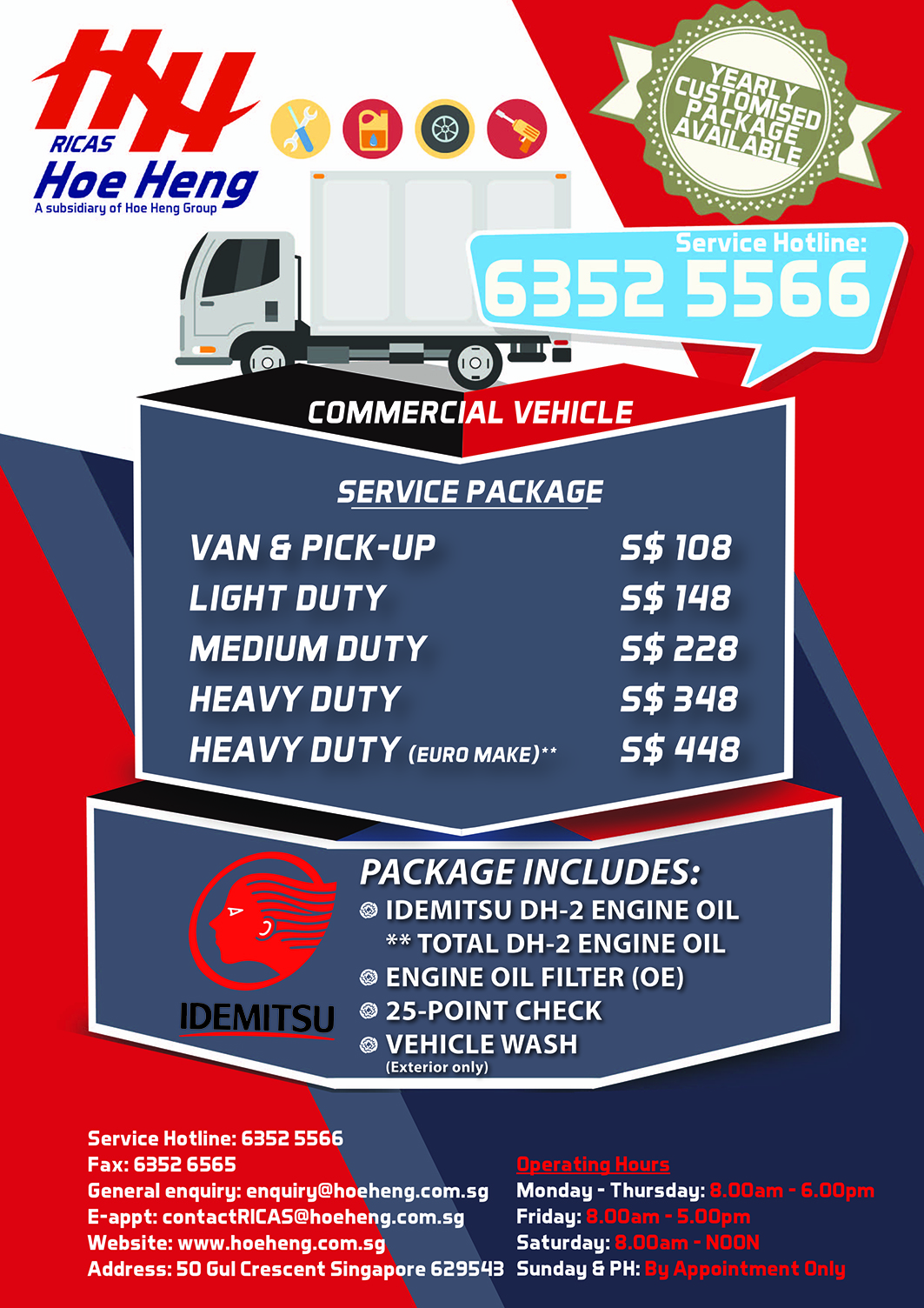 Car Service Packages
You don't have to own a truck or heavy vehicle to enjoy what we have to offer. Why not book your passenger car in for a yearly servicing with us?
Starting from S$88, your everyday vehicle can enjoy the 5-star treatment as well. With 3 levels of passenger service packages to choose from, your car can experience the RICAS difference too.
Our highly skilled technicians can get your car driving down Singapore's roads more smoothly than before, in a matter of hours!
All passenger vehicle service packages include:
Engine Oil Filter (OE)
15-Point Check
Car Wash (Exterior)
Our rapid turnaround on all services is sure to impress, providing you with the ultimate passenger vehicle maintenance.
At RICAS, we are all about maximising value while minimising cost. Our industry's best practices are kept in mind with every service package we curate. This is done to assure peace of mind on whichever option you choose. Getting your car or truck maintained with us will be easy-breezy every time!