ALL-INCLUSIVE SERVICE
FREE Drinks & FREE Company Door Gifts
WELCOME TO HOE HENG RICAS
RICAS is a Repair, Insurance Claims And Servicing . We specialise in all aspects of after-sales truck servicing at competitive prices. Our workshop in Singapore contains leading-edge facilities that any truck owner will appreciate.
We are fully equipped to provide comprehensive truck after-sales services, with fast turnaround guaranteed. When you bring your truck to us for servicing in our workshop, you can rest assured that it'll be in top-notch condition once it leaves.
Our dedicated team of technicians are determined to ensure customers across Singapore always leave satisfied. Our services encompass all facets of truck diagnostics, servicing and maintenance.
Our workshop in Singapore is fully modernized, with a complete kit of professional tools at our disposal. Between our tools, facilities and expertise, our specialists can be trusted to get the job done right.
The RICAS Difference
While there are many truck repair centres around, we stand out from the crowd. Our commitment to quality cannot be compromised, with all staff striving to exceed expectations every time. We are on a mission to establish ourselves as a top choice for vehicle owners who require vehicle services of all descriptions.
WE COME TO YOU
You never know when an emergency will strike. In the event that your truck breaks down, RICAS is here and fully prepared to help. Our towing and mobile service vehicles are on stand-by 24/7, at the ready when you need it most. If you're in urgent need of assistance, call our service hotline now.
Even in the unfortunate event of a car accident, we can help you out. We understand how stressful it is to deal with the consequent third party insurance claims after an accident. To see what assistance we can offer in the event of an emergency, visit this page for a step-by-step guide.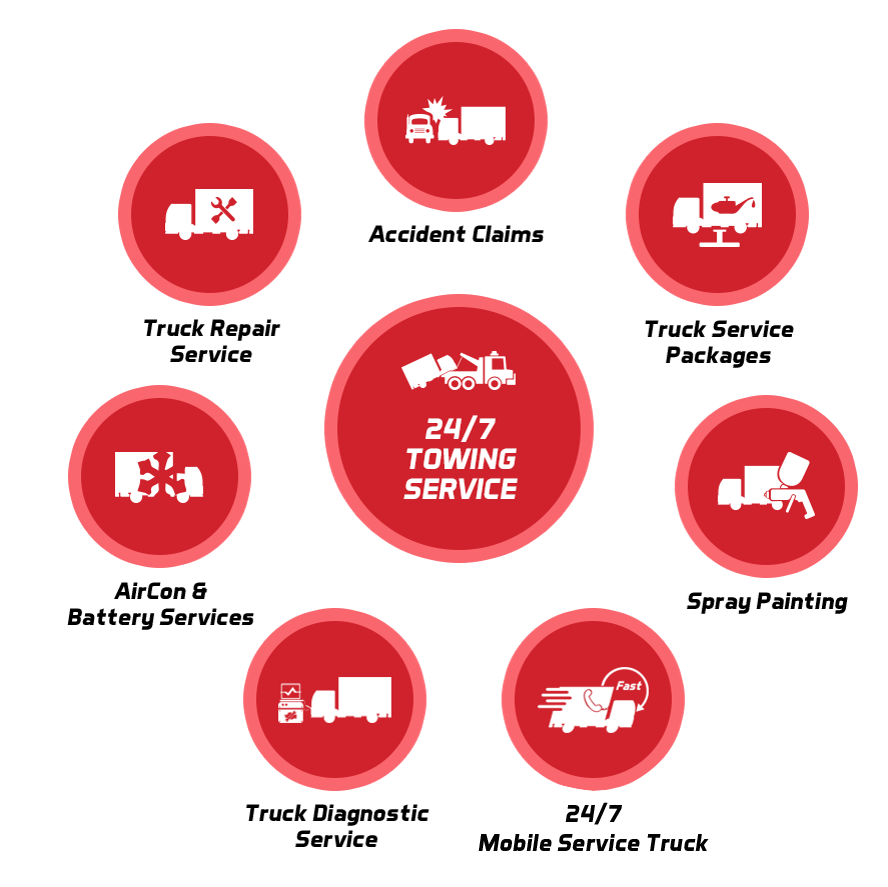 The Service Advisor is knowledgeable and did a great job in assisting my needs! I am also very pleased with the well-trained technicians who took great lengths to repair and service my trucks. 
Overall, your 24/7 Mobile Service Truck poses great convenience to me as I do not need to worry about distance anymore! Also, I am open to build a long term business relationship with you in the future!  

– Lau Boon Heng Kwei Teow & Noodle Manufactory 

Lau Boon Heng Kwei Teow & Noodle Manufactory